Day and Night IR-CUT Dual Filter Switch for CCTV ip Security Camera Lens Projector
Product Detail
Product Tags
Inside the camera CCD or CMOS use day and night filter cause the camera image partial color in the daytime, night vision low illumination effect is poor, so day and night filter can't meet the current CCTV surveillance industry application of high -definition digital products, when the camera is color, it will automatically use the pulse signal to make the switch move to IR CUT filter, taken out such the camera image near the object of primary colors, nature.  when the camera is night vision , it use the pulse signal to make the switch move to the AR filter once again, this image sensors can be induced to the all wavelength of the light, so that the camera is better image brightness and resolution, was made objects easier to identify.
The IR-CUT switch is an apparatus that is placed between the camera sensor and the lens, and allows the IR-Cut filter to be placed or removed from the front of the sensor, depending on the illumination level. It is a mechanical shutter, typically powered by a motor, with NIR filter and plain glass panes.
Electrical Features:
1. Resistance: 25Ω±5Ω(normal temperature)
2. Driving voltage: 3.4-4.5V
3. Current: 155-225mA
Optical Features:
1. Glass thickness: T=0.21mm
2. Glass dimension:8*9mm
3. Glass(red) Transmission:
Wavelength

Transmission

400nm-420nm

T>82%,

Tave

>

88%

4

2

0nm-

6

20nm

T>

90

%,

Tave

>

95%

645

±10nm

T=50%, slop

e

80%

-20%<20nm

680nm

T<5%

7

00nm-

105

0nm

Tave<2%, T<

3

%

105

0nm-

110

0nm

Tave<2%, T<

6

%
4,Glass(white):
400nm-1100nm: T>90%; Tave>92%
Technical Drawing: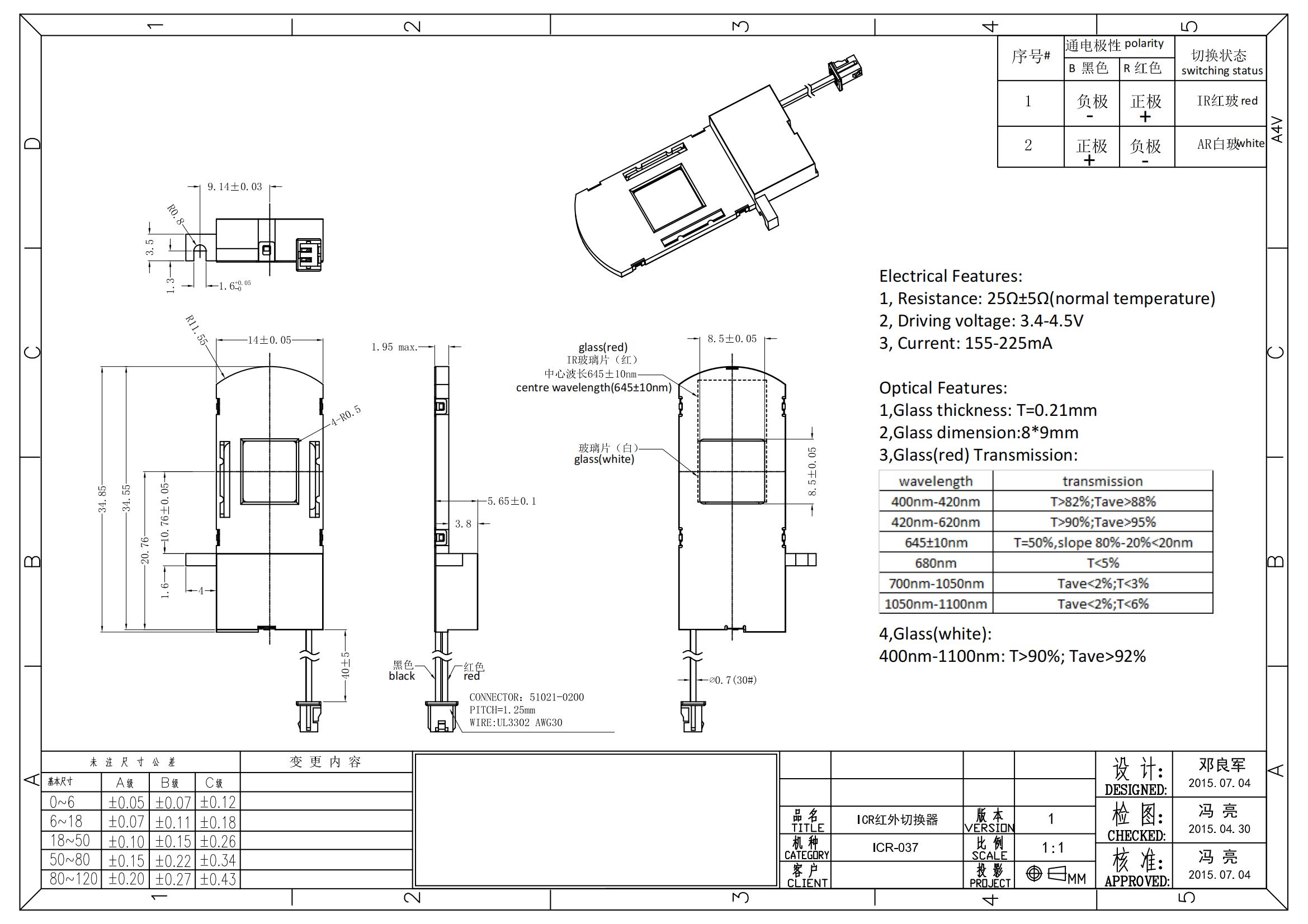 We also provide customized services and a wide range of product resources to adapt to changing market demands with professional optical solutions. Product applications include industrial, manufacturing, semiconductor and communications.
---
Previous:
Two Blades IR Thermal Imaging Shutters
---
Write your message here and send it to us