High Speed Auto Focus Electronic Iris Aperture Diaphragms for CCTV Lens Security HD camera ATM-SU-115
Product Detail
Product Tags
The smaller the aperture, the more focused the light will be, allowing for a larger depth of field (DOF) – covered in more detail later. This is inversely proportional to the amount of light that reaches the sensor. So, when trying to achieve a bright and focused image, aperture plays an important role. However, sometimes its relationship with focus and brightness might not be desirable. This blog covers the different ways to adjust aperture, how to take advantage of its optical impact, and provides alternative options for getting bright and focused images in various conditions.
What is aperture?
The aperture of a lens is the opening through which light passes to reach the camera. Adjusting the aperture means making that opening larger or smaller with a lens diaphragm usually made up of metal blades or leafs within the lens. The number of blades within the diaphragm can vary significantly
Model: ATM-SU-115
Material: PC +30GF, PET
Technical Parameters:
1.Rated Voltage: 3.3V DC
2.Constant Current: 132mA
3.Power: 0.4356w
4.Duty Cycle: 50 ED
5.Insulation Class: B
6.Insulation Resistance: 10MΩ Min
7.Coil Resistance: 25Ω±20‰
Application: Security camera, CCTV camera, Projector, Night Vision
Technical Parameter of Auto Iris

Model No.

ATM-IRIS-007-009

ATM -IRIS-008-006

ATM -IRIS-009-001

ATM -IRIS-011-003

ATM -IRIS-014-001

Drive end resistance

200Ω±10%

200Ω±10%

190Ω±10%

190Ω±10%

200Ω±10%

Brake end resistance

500Ω±10%

500Ω±10%

500Ω±10%

500Ω±10%

500Ω±10%

Close→Open Voltage

3.5V Max

2.5V Max

2.5V Max

3.0V Max

3.0V Max

Open→Close Voltage

0.5V Min

0.5V Min

0.5V Min

0.5V Min

0.5V Min

Ripple

0.3V Max

0.3V Max

0.3V Max

0.3V Max

0.3V Max
Drawings for more auto iris:
Model: ATM-SU-126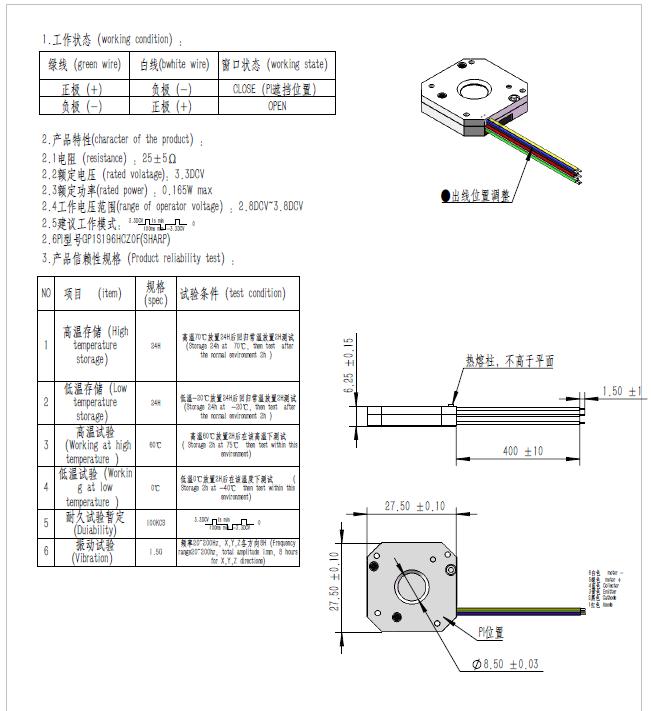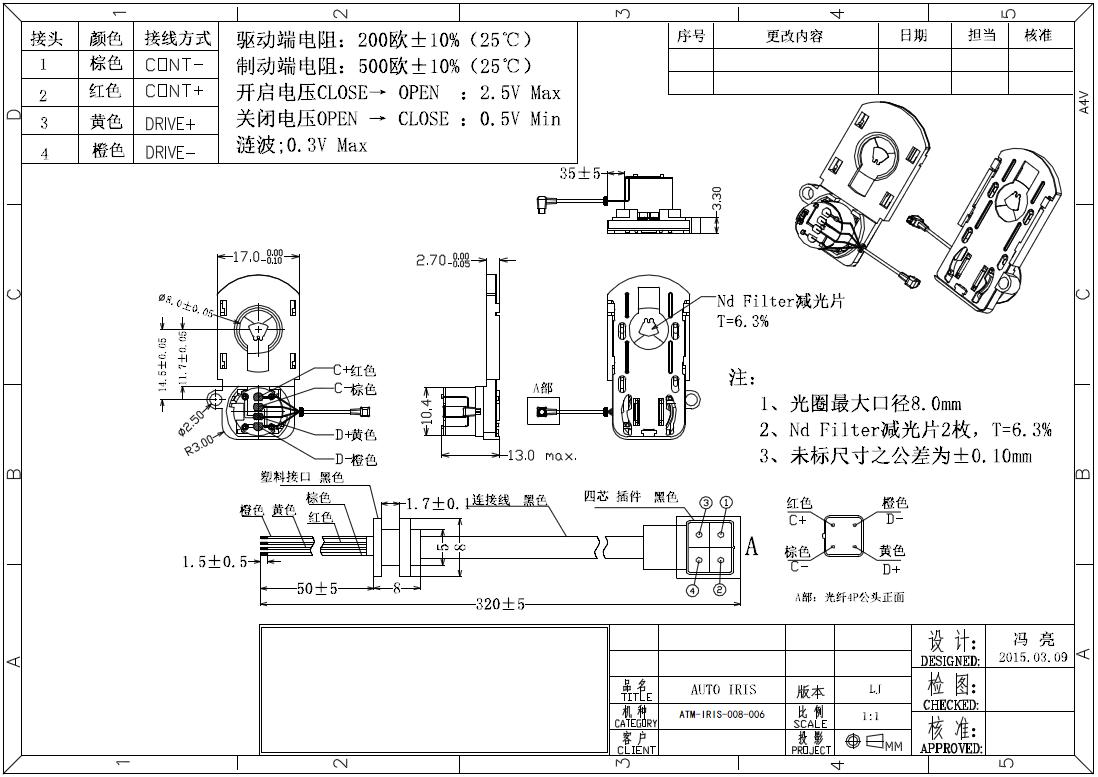 Package: 80 pieces per plastic tray, 4 trays per carton,320 pieces per carton.
Professional OEM/ODM Service
1.Offer the most professional personalized packages: silk print your logo on the products, personalized labels, giftboxes, user's manuals, blisters, etc, if you need.
2. Accept ODM orders: if you have any idea on items, we can help you to design and put it into production and welcome your inquiries!
---
---
Write your message here and send it to us